Hey everyone,
 I thought I'd put up a post about the v2 cartomizer, as well as some pictures of filling methods, etc. - just as a sort of basic overview of common questions I've noticed being asked on the forum. This is something I've been piecing together for the last few months. While it's not the most comprehensive guide to cartomizers, juicing, cleaning, etc., I figured it should be a good primer to understanding the use and maintenance of a v2 e-cigarette. I figured I would put this up so we could have something on the forum until something better comes along. For anyone new to vaping, it should (hopefully) be enough to make any problems they may be having a little easier to deal with. Since most of what is in here is bits and pieces of information that I've learned from other forum members, in addition to my own personal experience - I'd just like to say thanks to everyone here for helping to make this possible. I've tried to keep this as opinion-free as possible and just show the basics, but that may be difficult to do - so, any criticism is certainly welcome, especially if anything presented seems in error.
 I thought it would be nice to have a picture guide, since it allows for a quick overview of all the subjects involved. I divided the post into 5 parts:
PART 1 - CARTOMIZER DESIGN
PART 2 - USING E-LIQUID
PART 3 - CLEANING
PART 4 - ACCESSORIES
PART 5 - TIPS & TROUBLESHOOTING
 For most of this post, I'm going to go through some of the basics of what I've learned throughout the months that I've been vaping. There will be various links included to
other past discussions
in the forum that will expand on the topics as I discuss them.
 The last part of this post will involve some tips and troubleshooting.
Words highlighted in blue are hyperlinked to other forum pages or external sources.
Anatomy of a cartomizer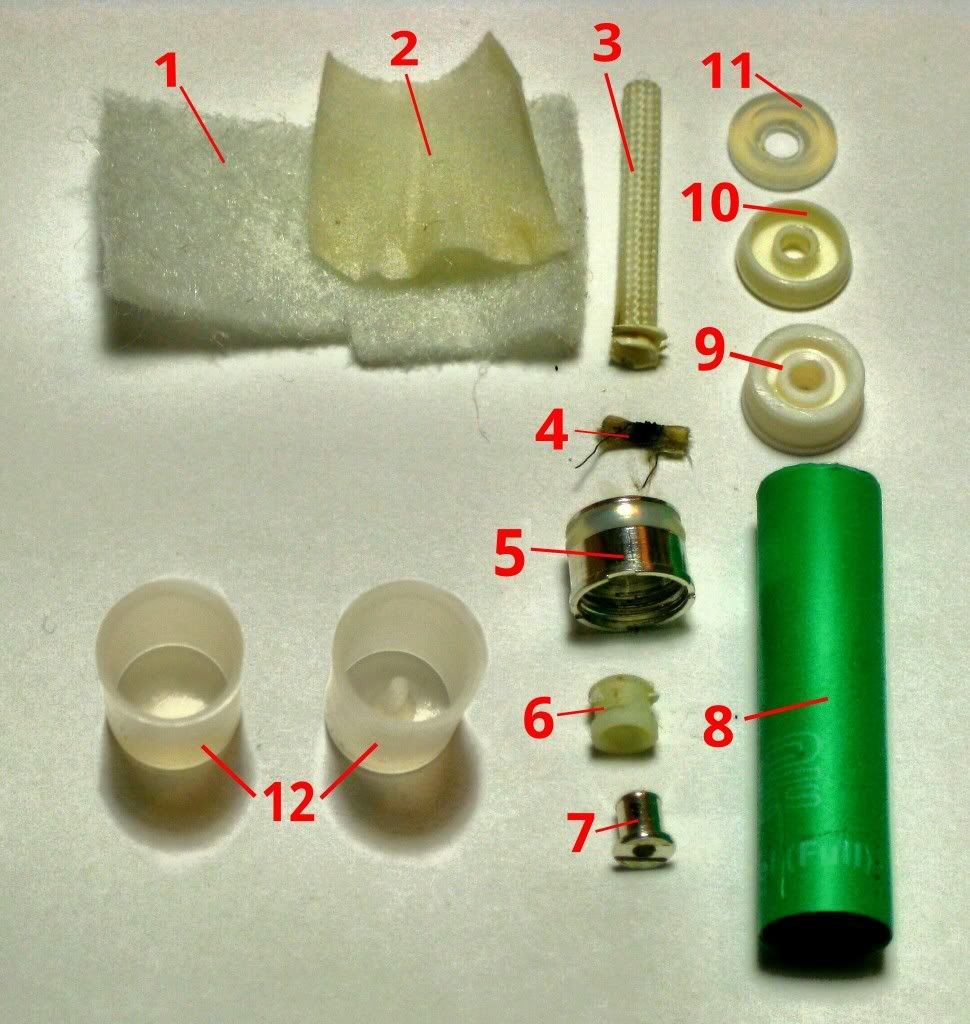 Figure 1 - Parts of a cartomizer
1.
Polyfill / Batting / Low density captive wadding
2.
Inner Sleeve / Anti-Leak Filter / High density captive wadding
3.
Center-tube / Vapor Stack / Coil Shield
4.
Wick - Heating Coil & Scavenging Whiskers
5.
Collar / Battery Connector / Anode Collar (with washer attached at the top)
6.
Grommet / Center-post O-ring / Spindle Grommet
7.
Center-post / Cathode Spindle
8.
Cartomizer Casing
9.
Rubber Cap
10.
Plastic Cap
11.
O-ring
12.
Condoms / End Caps (the right one has an end cap plug inside of it)
 The above picture (Fig. 1) is a disassembled v2 cartomizer. I'm not exactly sure of what all the specific technical names of all the parts are, so I defined them by the names most commonly used by other forum members. Some of the other names I assigned for convenience, mostly based on terms I've seen used elsewhere. Some are names that you may see from similarly produced cartomizers.
 Also, the
anode/cathode
refers to polarity, so you could just refer to the parts as collar/spindle.
 The first thing that vapers likely already have experience with is removing the plastic or rubber cap. The following picture (Fig. 2) shows a common way many members if this forum remove the caps by using the metal handle on a common binder clip, usually sold alongside paper clips at office supply stores.